Thursday, April 29th, 2010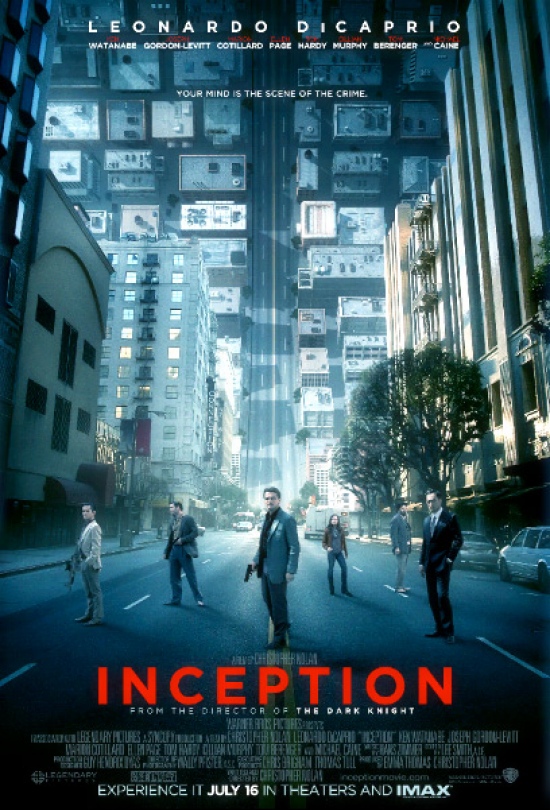 This poster just turned up online, as reported by Slashfilm.  It for INCEPTION, the new movie by Chris Nolan (THE DARK KNIGHT).
It was found inside a slick, sticky little Unity game at yourmindisthesceneofthecrime.com
I like the look of it.  But what I like more is that I, like most of the rest of the world, know virtually nothing about this movie.
Nolan, Like JJ Abrams, understands the value of intrigue.  The massive buzz around Abrams' CLOVERFIELD had much to do with the title-less teaser trailer that turned up, and the anti-campaign that followed, establishing a deliberate distance between the alpha moviegoers and the experience that was waiting for them inside the cinema:
These kind of online campaigns aren't about bombardment, or scatter-gun marketing.  They work around timing, budget, a well thought out strategy, and a creative brief articulated in terms of the cohesive experience it will deliver.
Of course, this doesn't work for every movie.  Some films still have to be sold the old-fashioned way (especially if they're shit).  And it doesn't work when you're bringing a book or a comic to the screen – fans tend to just obsess over how faithful a representation it will be.
It's working for INCEPTION though in terms of keeping me guessing (and blogging.  It's worth stating that we've had nothing to do with this campaign, I'd disclose it otherwise.)
And yes, two weeks out we'll get the customary media blitz, with 'Leonardo Di Caprio' and 'From the director of THE DARK KNIGHT' written in big old letters.  For the majority of movie-goers this will probably be the first time they've even heard of INCEPTION.
For the rest of us, it will be confirmation that the wait is over.