Wednesday, December 15th, 2010
From the ever-excellent XKCD: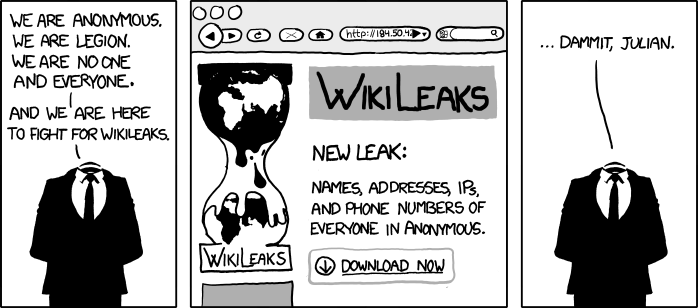 And my favourite Assangism of the last day or two:
"We now know that Visa, Mastercard, PayPal and others are instruments of US foreign policy. It's not something we knew before."
He's right you know – that piece of plastic in our back pockets marks us out as card-carrying members of the Ignorati™. If you don't know what I'm talking about why not head on over to ITV.com (never thought I'd be saying that) and watch John Pilger's 'The War We Don't See'.
And, for those of you who are unhappy with the fact I've let my militant streak do the blogging for the last few posts, I give you… DOUBLE DREAM HANDS!!!
For everybody else, there's always Bill…