The Force™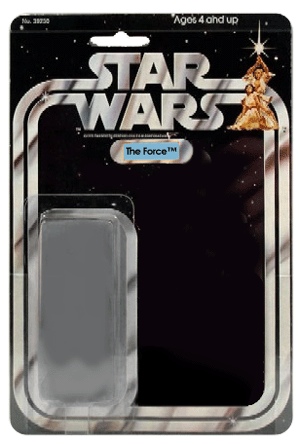 Found this today on Slashfilm.  Even though it's taking a potshot at LucasFilm's procilivity for pursuing even the most spurious merchandising opportunities, the first thing I felt when I saw it was an immense surge of nostalgic pleasure at the memory of buying my first Star Wars figure.
I was out with my mum and my brother, in a shop on Godalming High Street.  We're talking about twenty-eight years ago.  My mum bought us one each – my brother got Han Solo (1st row, 5 across), and I ended up with one of those dudes who operates the Death Star (2nd row, 18 across).
Sure, my guy was kind of crap, but we still managed to spend the next month pretending the family piano was some sort of vast interstellar vehicle over which these two sworn enemies forever battled for control.
It wasn't long before more figures arrived.   I remember Greedo (2, 6), Admiral Ackbar (3, 9) and, in time, the mighty Boba Fett (2, 12).  We even got that guy who worked for Lando Calrissian in Cloud City (2, 9).  Turns out he's called Lobot: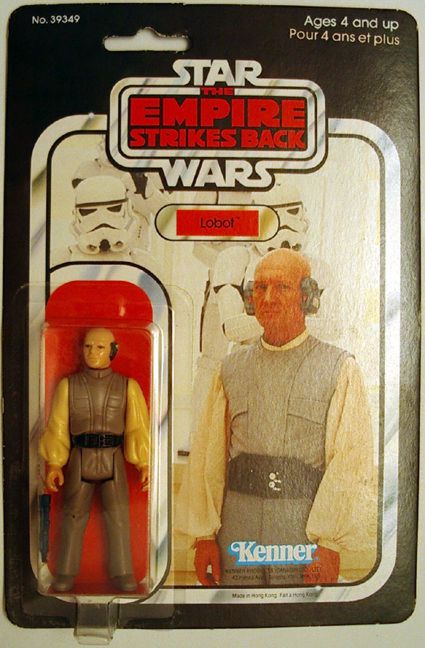 It pretty quickly became clear that he was the Star Wars figure equivalent of the guy who gets chosen last when you're working out football teams in the playground.
Whenever we settled down on a Saturday morning, turned the duvet on one of our beds into some sort of other-worldy terrain, and engaged in a little Star Wars team selection, Lobot was always left kicking his heels at the end, along with the droid who looks like suitcase and a Gamorrean Guard.
I think it was those big sleeves of his. He just looked a bit, well, crap. These days, nerd-boy that I am, I'd kill for a Lobot. Especially if was still wrapped up in that bloody glorious packaging.
The Force™ was just one of the numerous posts on Slashfilm today.  Peter Sciretta's commitment to keeping the site chock full of up-to-the-minute movie news and painfully cool extra goodness is just extraordinary, and lies at the heart of why it has so quickly become my favourite blog.
Another peach from today was this 60″ version of Kill Bill.  Ever since we sweded Lord of the Rings I've been hankering to get back in the director's chair.  To me this is a classic swede, showing just how much you can achieve with little more than a yellow tracksuit and a hockey pitch:
I hope Peter keeps taking Slashfilm site from strength to strength, so that the rest of us can go on enjoying the best of the past, present and future in film. Something tells me he will. The force is strong in this one.
Tags: sweded