The future begins
This, we are told, is the principle theatrical Star Trek poster.
Look at all familiar?  Well, if you were around in 1979, you might remember this:
Great to see that they're taking the re-boot seriously.  All the same, I think it's a bold choice.  This is a very abstract design for the principle piece of artwork on such a major release.
Normally we see this kind of thing used for the teaser poster early on in the campaign, often because all the designers have to work with is one visual of the Enterprise and a bed sheet.
The final theatrical poster tends to be more of an amalgam, reflecting the key selling points of the movie, and any star quality on offer.  These can often feel slightly crowded and overworked, at the expense of any underlying creative coherence.
The next two designs – used for two of the international posters, destined for markets where Star Trek is a little less ubiquitous than the US – typify that approach (although personally I think they hold together pretty nicely):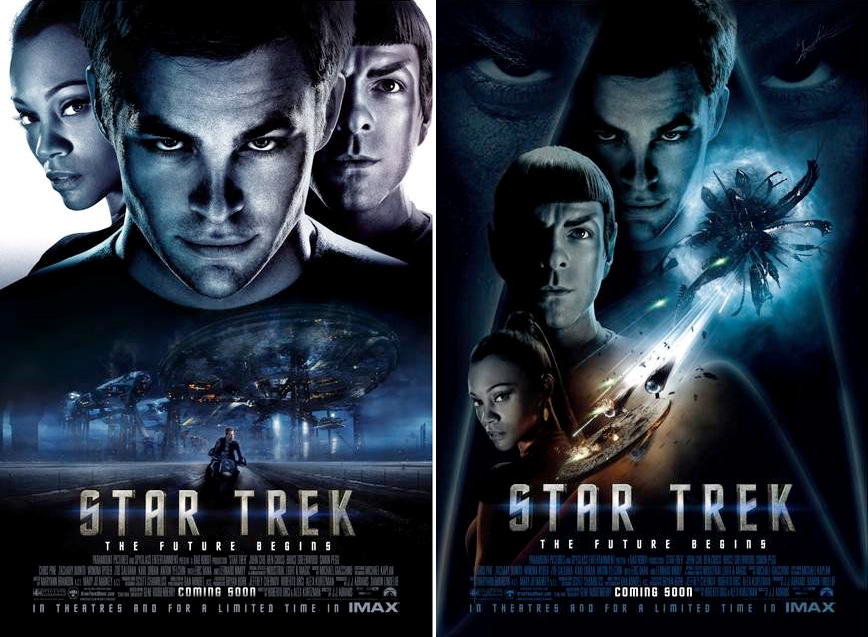 And just to round up this little round-up, this (apparently) is the South American poster: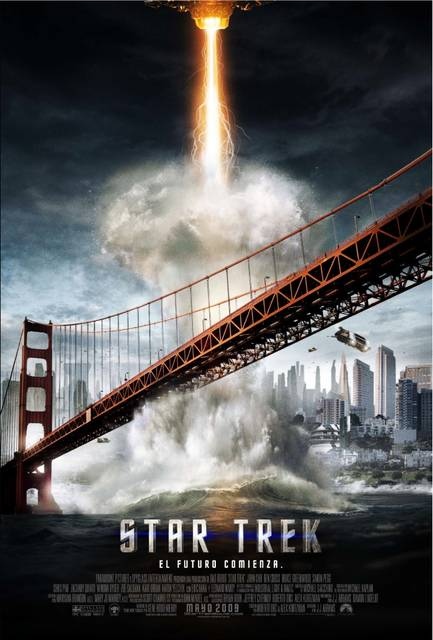 Looks like they've taken a completely different route, positioning Star Trek as an event movie, cut from the same cloth as Independence Day and The Day After Tomorrow.
The last of these notably caters for the global obsession with the spectacle of major American landmarks being destroyed.  Some would probably cite this as some sort of morbid post-9/11 phenomenon, but for those people I have just two words.  Well, three. The. Towering. Inferno.
All in all, I think these posters offer an interesting view of the whole process of packaging the same film for differing cultural sensibilities.
Indeed, the Star Trek franchise as a whole is a bit of an anomaly in this respect – it's an institution in America, plays pretty well in the UK, Australia, and a few other European countries, but apart from that it's a pretty tough sell. That may be rooted in the fact that it espouses a homogenised world-view foreign to the local sensibilities of non-English-speaking markets.
Ironic, when you consider that series creator Gene Roddenberry predicated Star Trek on the coming together of all mankind in the face of the discovery of other intelligent life in the universe.
I guess maybe the coming together of all mankind feels a little less enticing if it means that everybody ends up looking like they went to school in Beverly Hills.