Week in Inshriach™
February 2009 will see our inaugural visit to Inshriach House, a 200-acre highland estate (below) the ownership and management of which was recently taken over by our pal Walter.
We've booked it from the 16th-23rd Feb (at the eminently reasonable off-season weekly rate) so it will probably look a bit more like this.
Our current confirmed party consists of eight adults (Emma and I, my parents, and my brother and sister plus other halves) and seven children – Sam (8), Joel (6), Amelie (4), Lola (3), Charlie (2), Teddy (1.5) and Ruby (1).
Walter tells me that the place can comfortably sleep double this number of adults, with a few of the little ones creatively accommodated. As such, we're throwing open an invitation to some of our friends – especially those with offspring, and those who don't find other people's offspring utterly insufferable – to come join us for this wintery week in the Cairngorms.
For anybody foolhardy enough to be considering it, here's a look at what we have planned for our fun, frugal, family-friendly Week in Inschriach™.
The Caledonian Sleeper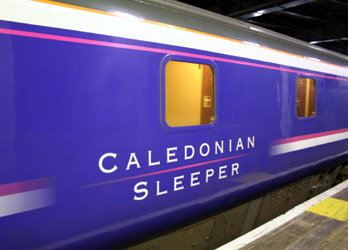 This runs every night between London Euston and Fort William, stopping along the way at Aviemore, which is just a few miles from Inshriach. It has to be a better option for any parent than spending 8-10 hours in a car with one or more small children, and is probably cheaper.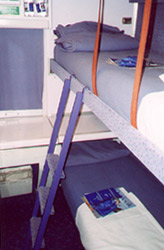 There's a page full of useful information here, including details of what you can expect with a standard class 2-berth compartment (pictured left). Booked in advance, this compartment (and, I presume, both berths) can apparently be yours from £99. I looked into buying tickets through RailEasy and was quoted £124 for a return ticket departing from Euston at 9pm on Sunday 15th (arriving in Aviemore at 7am the following morning) and returning at the corresponding times on Sunday 22nd.
Kids under five go free, but aren't provided with a berth. There is apparently room for a Samsonite travel bubble, which looks like it would house a little one for the whole week (allowing them out for meals perhaps, and a cold bath.) Failing that, the kids can take the berths and mum and dad can take turns working through a bottle of half-decent scotch in the lounge car.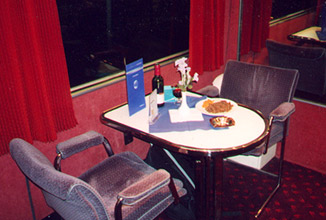 For anybody worried as to whether or not you'll be able to transport everything you need for a week by train, there will be some cars going, and probably the option to stow a few extra items therein. (And by items, I do not mean children.)
Don't call it a 'rota'
Our friend Eleanor (who might be coming) was quick to point out to me that running a kitchen can become a bit of a bone of contention in this kind of situation. While some wrestle for control of the utensils, others shrug off any and all responsibility with irksome abandon. (For the record, I am usually to be found in the second category.)
With her reservations in mind, we're going to run things a little differently.
By my reckoning we'll be looking at about ten sit-down meals – five lunches, and five suppers. This excludes lunch on the Monday (we'll come pre-prepared), dinner on the Saturday (for reasons that should become clear) and both meals on Sunday (so that we can use up any scraps and leftovers as we prepare to decamp).
The current plan is to create five crack teams of 2-3 capable adults, each with roughly equivalent culinary know-how (or don't-know-how).
Each crack team will then cater for a lunch and a dinner (on different days), using a corresponding proportion of our overall food budget.
We'll use lunch on Monday as an opportunity to horsetrade regarding any larger items we want to involve. And, by horsetrade, I mean horsetrade. As in trading horses. And cows. And pigs-in-jelly.
After that it's down to Walter to get us the best deals possible from his local suppliers.
We should be able to source most of our food locally, with the opportunity to choose from a stunning selection of fresh, organic meat, fish and vegetables, not to mention all sorts of other local delicacies. Walter provides details of various local suppliers and their mouth-watering wares on the Inshriach House website.
Other things to note:
There are crack teams, but this is not a competition. Try to think of it more as a government black op, like running guns into Indochina.
If you're cooking the next meal, you're washing up the last one. Simple, effective, and a good chance to bond over a sink full of culinary smegma.
Dinner means tea as well. That means an early sitting for the tiddlers and the toddlers. It's a chance to show some real class, catering for critics who don't mince words. Or, for that matter, use words.
You have to cater for unusual dietary requirements. Cook for the veggies, basically, if there are any. And any vegans, though they be freaks of nature.
Breakfast will operate on the simple principle of have what you want, when you want, and leave the kitchen as you find it.
Treehouses & treasure hunts
"Because some men aren't looking for anything logical, like money. They can't be bought, bullied, reasoned or negotiated with. Some men just want to build treehouses."
If you know the man, you know that when Walter talks idly on the Inshriach blog about building a treehouse, what this means is the development of a sprawling multi-tiered arboreal housing complex fit for a tribe of Roman Catholic Ewoks.
I haven't consulted him on the subject, but I'm hopeful that we might be able to lay some of the groundwork – nay, treework – while we have a few able-bodied men and women able to stand around drinking tea and disagreeing about what to do next.
Given the family-friendly theme of Week in Inschriach™ we'll also be planning other activities each morning designed for children aged 1-100.
Top of the list is a treasure hunt Walter's busy designing, using various other-worldly props (see below) salvaged from a recent 3-month BBC shoot for the children's tv show Raven.
I dare say if there's snow there will be some sledging, and also some snowmen. However, in the event that the elements conspire against us, we'll also have plenty of indoor ideas in reserve, not least plenty of paper, paints, pens and pencils, and a nature table with its own weather system.
The 1st Inshriach International Film Festival
You can read about the new Inshriach House cinema and Film Club here, including the origins of the mysterious 6'x4′ NBS Nightly News screen set to take centre-stage, and pictured here in the process of being constructed:
As such, we'll be staging the 1st Inshriach International Film Festival, which essentially means we'll be showing one or two movies in the barn each day.
We'll try and show some good kiddie fare in the afternoons/early evenings – I'm thinking everything from vintage Disney (Snow White, The Jungle Book) through to Pixar's latest, WALL-E:
Later on we'll put on something for the old-timers, some good independent stuff from across the years, maybe exploring a suitable Scottish theme – think Gregory's Girl, Shallow Grave and Hallam Foe:
We should manage to watch a couple of films at least and who knows? Maybe if there's ever a 2nd Inshriach International Film Festival we'll be able to showcase something original that hasn't been shot and cut within the preceding twenty-four hours.
And to round it all off…
Plans are currently afoot for a collaboration between Inshriach House and some local restauranteurs, whereby they will occasionally cater for parties staying at the estate.
Walter sent me through some details of a menu being prepared for a party in January. It features some wonderful looking food for what sounds like an insanely reasonable price.
Rather than spell out the details here, I'll simply put it out there as a possibility that we would be catered for on the Saturday evening, after which some of us would no doubt drink our way through to the early hours of Sunday 22nd, which just happens to be my brother Barnaby's 103rd birthday.
And just for any gourmets among you, let me tease you with one possible selection; a starter of confit duck terrine with celeriac remoulade and handmade oatcakes, Rothiemurchus venison and juniper stew, with chilli chocolate, wee rosemary roasties and honey glazed root veg for a main, finishing up with rhubarb and custard crème brulee with shortbread.
So that's that really.
Anyone can find out much more about the estate and the house on the main Inshriach House website, you can read about the most recent developments on Walter's blog, you can find lots of lovely pictures on the Flickr page, and can make friends with Inshriach on Facebook.
If you have any suggestions as to what we should or shouldn't do on our Week in Inschriach™, and are coming along, or thinking about coming along, or even not remotely interested in coming along, feel free to comment below. As a rule, bloggers love it when people post comments on their posts. It's strangely reassuring to think that people might actually read them.
Sometimes, if you're really lucky, all the way to the end.
Tags: family, inshriach, Week in Inshriach™